"Be on your guard! If your brother sins, rebuke him; and if he repents, forgive him." (Luke 17:3)
"If your brother sins against you, reprove him." After the parable of the rich man who was tortured in punishment, how fittingly he added the command of showing mercy to those indeed who repent of their error, for fear that despair might not recall someone from guilt! He is truly moderate, so that pardon is not difficult or leniency lax, fearing that harsh reproof might cast someone down or conspiracy might invite guilt! He fittingly said, "If your brother sins against you," for it is not an equal condition to sin against people and against God. The apostle, who is a true interpreter of the divine prophecy, says, "After the first admonition, avoid a person that is a heretic," because unbelief is not on a par with minor transgression. Since error very often surprises someone through ignorance, he commands that it should be rebuked, so that stubbornness is shunned and a mistake is corrected." (Exposition on the Gospel of Luke, 8)
Pope Saint Leo the Great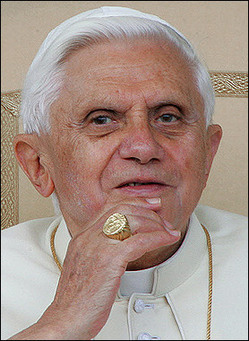 On 8 March 2008, Pope-emeritus Benedict devoted his weekly Wednesday General Audience to the life and theology of this great Western Father of the Church:
"Continuing our journey through the Fathers of the Church, true stars that shine in the distance, at our meeting today we encounter a Pope who in 1754 Benedict XIV proclaimed a Doctor of the Church: St Leo the Great.
more
...

Collect
Almighty and merciful God,
by whose gift Your faithful offer You
right and praiseworthy service,
grant, we pray,
that we may hasten without stumbling
to receive the things You have promised.
Through our Lord Jesus Christ, Your Son,
Who lives and reigns with You
in the unity of the Holy Spirit,
one God, for ever and ever. Amen.
Glory to the Father
and to the Son
and to the Holy Spirit:
as it was in the beginning,
is now, and will be forever. Amen