ANTIPHON
Hosanna to the Son of David; blessed is He who comes in the name of the Lord, the King of Israel. Hosanna in the highest. (Matthew 21:9).
COLLECT
Almighty ever-living God,
Who as an example of humility for
the human race to follow
caused our Savior to take flesh
and submit to the Cross,
graciously grant that we may heed
His lesson of patient suffering
and so merit a share in His Resurrection.
Who lives and reigns with You
in the unity of the Holy Spirit,
one God for ever and ever. Amen.
RESPONSORIAL PSALM
My God, my God, why have you abandoned me? (Psalm 22:2).
SCRIPTURE EXCERPT
"The veil of the sanctuary was torn in two from top to bottom. When the centurion who stood facing him saw how he breathed his last he said, "Truly this man was the Son of God!" There were also women looking on from a distance. Among them were Mary Magdalene, Mary the mother of the younger James and of Joses, and Salome. These women had followed him when he was in Galilee and ministered to him. There were also many other women who had come up with him to Jerusalem. (Mark 15:38-41).""
REFLECTION
The Scrutinies have been celebrated. The Creed and the Lord's Prayer have been handed-over to the Elect. The faithful have responded in Grace to the Gospel imperatives of prayer, fasting and almsgiving. All is ready for the difficult journey from palm waving, to a Meal that has some twists and turns, to arrest - abandonment - excruciating pain - and death. The Body of Christ is ready for the journey to Calvary. But is each member of the Body ready?
Throughout the Gospels there is a constant tension between Christology and discipleship: Who Jesus is and the claim He sounds to follow Him. This is not an invitation to embrace an ideology or a particular philosophical outlook on life. His words and deeds, expressions of His very being, are meant to elicit a relationship, a commitment, a bonding with and to Him. As each Gospel unfolds, we are immersed in the drama of fellow human beings saying yes to this relationship, some no and far more remaining lukewarm: no commitment whatsoever, just hanging out on the sidelines like a spectator.
As the Marcan account of the Lord's Passion seeks its way into our hearts this Sunday, the fidelity of the God-man Jesus stands in sharp contrast to disciples who one-by-one, leave Him alone and abandoned. There are some flickers of hope: an anonymous woman and yes – to a degree – Peter himself, not to mention an anonymous outsider: a Roman centurion. In a loving gesture that speaks to both His death and His messianic Kingship, Jesus is anointed with perfume. She 'gets it.' She knows Jesus as Messianic King whose Kingship is born from the dregs of death. Peter, known far and wide for the thrice denial of His friend, does follow Jesus in His Passion, but does so "at a distance" and apparently "at a distance" has an unfortunate limit. But then there is the Centurion – a gentile – who comes to faith and boldly proclaims: "Truly this man was the Son of God!"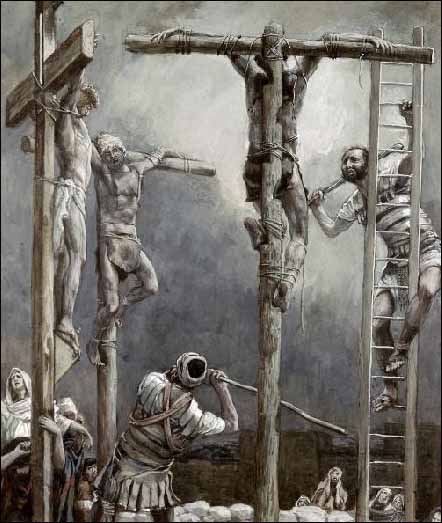 These sacred days known as Holy Week are offered to us as a gift to experience deeply the authentic identity of the Crucified Son of God and our commitment to Him as one of His disciples. To this end, the words of a fourth-century Cappadocian Father are well worth pondering:
"If you are a Simon of Cyrene, take up your cross and follow Christ. If you are crucified beside him like one of the thieves, now, like the good thief, acknowledge your God. For your sake, and because of your sin, Christ himself was regarded as a sinner; for his sake, therefore, you must cease to sin. Worship him who was hung on the cross because of you, even if you are hanging there yourself. Derive some benefit from the very shame; purchase salvation with your death. Enter paradise with Jesus, and discover how far you have fallen. Contemplate the glories there, and leave the other scoffing thief to die outside in his blasphemy.
If you are a Joseph of Arimathea, go to the one who ordered his crucifixion, and ask for Christ's body. Make you own the expiation for the sins of the whole world. If you are a Nicodemus, like the man who worshiped God by night, bring spices and prepare Christ's body for burial. If you are one of the Marys, or Salome, or Joanna, weep in the early morning. Be the first to see the stone rolled back, and even the angels perhaps, and Jesus himself (Gregory of Nazianzus, Oratio 45)."